BIZZ WIZZ POINT OF SALE
ON HOLD LIST
Bizz Wizz : Setup , Main Menu , Ledger , Phone Book , Invoice Book , Stock Book , Order Book , Creditors , Point of Sale , Business Name , Diary , Wages , Document Manager , Unlock , Backup
See Also : POS Scan Main Screen , POS Setup , POS Scan , POS Find Part , POS Edit , POS Hot Keys , POS Archives , POS Sales List , POS Hold , POS List Invoices , POS Finalise , POS Invoice Pay , POS Staff , POS Customer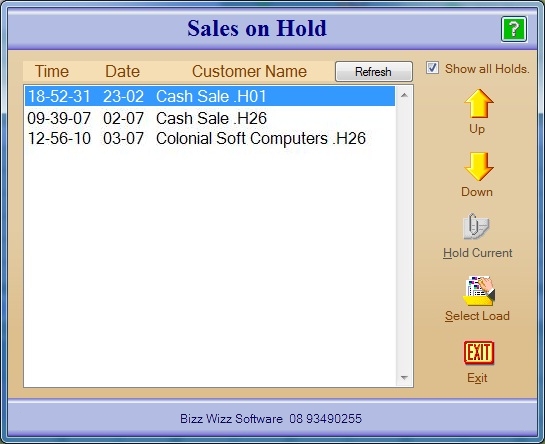 Sales On Hold: This screen lists the invoices, by customer name, that are currently on hold.
Up/Down Arrows: Click on the up/down arrows to move 1 name either up or down the list.
Select Load: Click on this button after you have selected the customer name and the invoice will then be loaded from the list.
Show all holds option is so holds from all computers will be shown in the list
(Click refresh to check for newly added holds )
Exit: Click on this button to exit from Sales On Hold and to return to the main screen.
See Also : POS Scan Main Screen , POS Setup , POS Scan , POS Find Part , POS Edit , POS Hot Keys , POS Archives , POS Sales List , POS Hold , POS List Invoices , POS Finalise , POS Invoice Pay , POS Staff , POS Customer