BIZZ WIZZ DIARY
MAIN SCREEN
Bizz Wizz : Setup , Main Menu , Ledger , Phone Book , Invoice Book , Stock Book , Order Book , Creditors , Point of Sale , Business Name , Diary , Wages , Document Manager , Unlock , Backup, Memo
See Also : Diary , Add or Edit Appointment , Add Contacts , Contacts List , To-Do List
NOTE: By moving the mouse over the buttons, the help box at the bottom of that screen will give you a brief description of the function of that button.
SETUP BEFORE YOU START: To show this popup click on setup bottom right of main screen.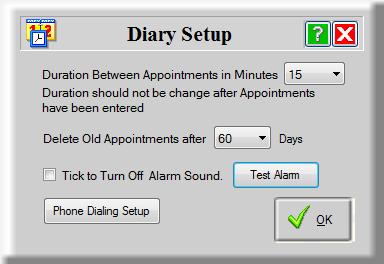 Before using the diary you must setup the duration between appointments and how long you wish to keep the old appointment for.
I you turn off the alarm sound only the Alarm Popup will be seen.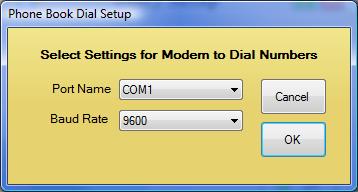 Phone Dialling setup is used to set up a com port for a Modem to dial numbers from your computer.
MAIN DIARY WINDOW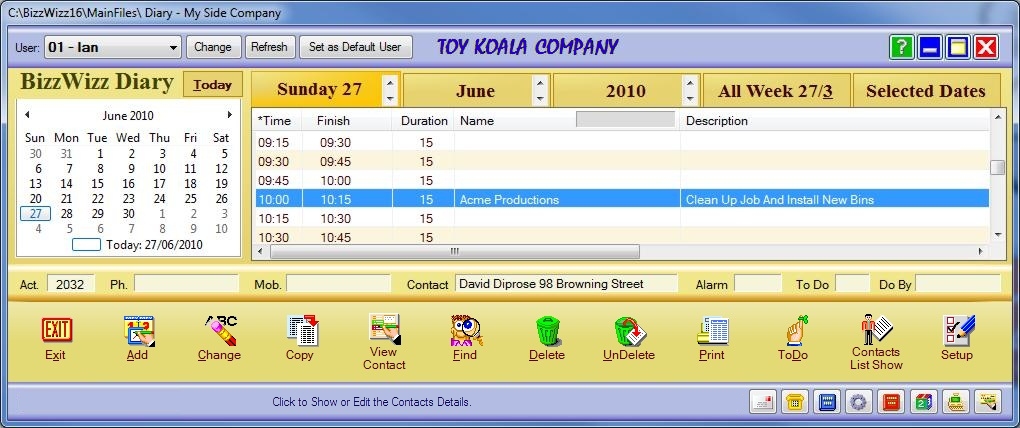 The first thing to check when opening the diary is the User name top left on screen.
If the user is not setup just highlight a blank user and click the Change button.
You can also set this user as the default user for this computer by clicking the Set as Default User button.

Dates can be selected on the Calender on the left which will affect the tabs above the appointment list.

The Tabs on the top of the list can list the Day , Month , Year , A Week Or Selected dates.

The Day Tab will show all the Time slots on that day with and without appointments.
Tip: if in Day mode by clicking the Selected Dates Tab the list will condense to just entered Appointments.

The Month Tab will list all Appointments in that Month.

The Year Tab will list all Appointments in that Year.

The Week Tab will list all Appointments in that week.

The Selected Dates Tab will list all Appointments for the dates selected on the Calender .


BOTTOM BUTTONS:
Exit button- will close the Diary.

Add button - adds an Appointment to the highlighted time slot however the time slot can be changed in the Add form.

Change button - lets you change the Appointment that is highlighted.

Copy button - lets you copy an Appointment to another time slot keeping the old Appointment.

View Contact button - will bring up a contact's detail for the Appointment that is highlighted.

Find button - will ask you to enter some of the text you wish to find. Found Appointment will show in red.

Delete button - removes an Appointment from the list.

Un-delete button - will bring back the Appointment if you have not left the screen.

Print button - can print the highlighted Appointment OR the full list.

To-Do button - shows the To-Do list which holds the jobs still needing attention.

Contacts List Show - button displays the contacts list.

Setup button - sets up the Diary. See Top of this page

See Also : Diary , Add or Edit Appointment , Add Contacts , Contacts List , To-Do List