How to Unlock Bizz Wizz
Bizz Wizz : Setup , Main Menu , Ledger , Phone Book , Invoice Book , Stock Book , Order Book , Creditors , Point of Sale , Business Name , Diary , Document Manager , Unlock , Backup
See Also : Menu , Purchase, Unlock , Backup , Load Old Version Data
NOTE: By moving the mouse over the buttons, the help box at the bottom of that screen will give you a brief description of the function of that button.
| | |
| --- | --- |
| | How to Unlock Bizz Wizz (Down loads from web) |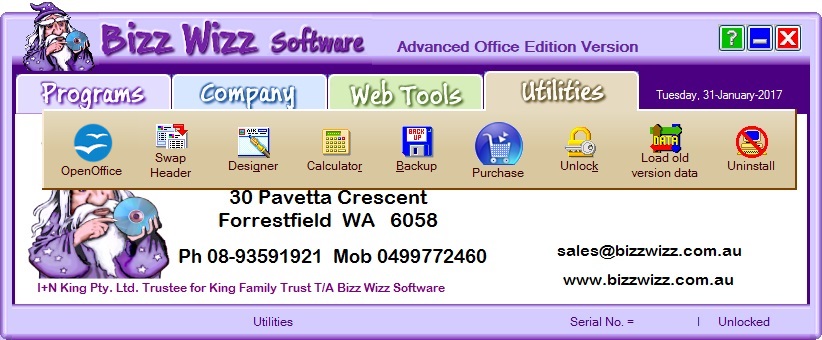 CLICK UNLOCK FROM UTILITIES MENU
The Unlock Window has a Popup Box that will ask you for your Serial number First.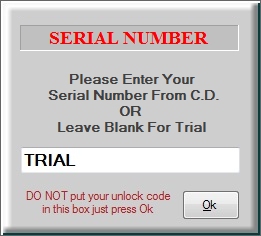 Enter the Serial number that came with the software in this box or leave blank for a trial copy.
PRESS OK to save Serial Number.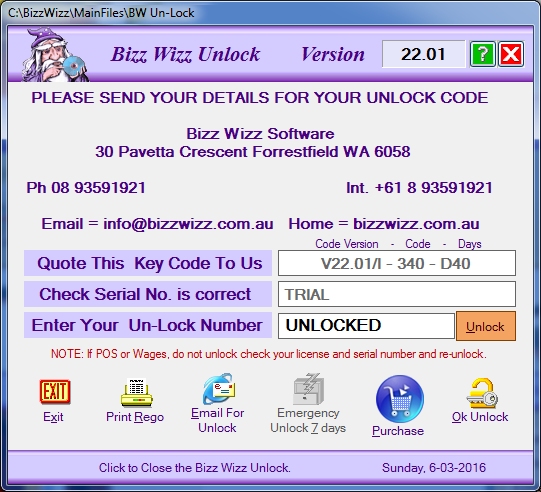 Next you will see the window above, for your unlock code you must contact BW using one of the many option on this form.
To use the Print Rego or Email you will need to set up your letter head first in the designer.

After entering the unlock number press Ok unlock then Exit

See Also : Menu , Purchase, Setup, Backup