BIZZ WIZZ DESIGNER
MAIN SCREEN
Bizz Wizz : Setup , Main Menu , Ledger , Phone Book , Invoice Book , Stock Book , Order Book , Creditors , Point of Sale , Business Name , Diary , Document Manager , Unlock , Backup, Memo
See Also : Designer , Pin Numbers
NOTE: By moving the mouse over the buttons, the help box at the bottom of that screen will give you a brief description of the function of that button.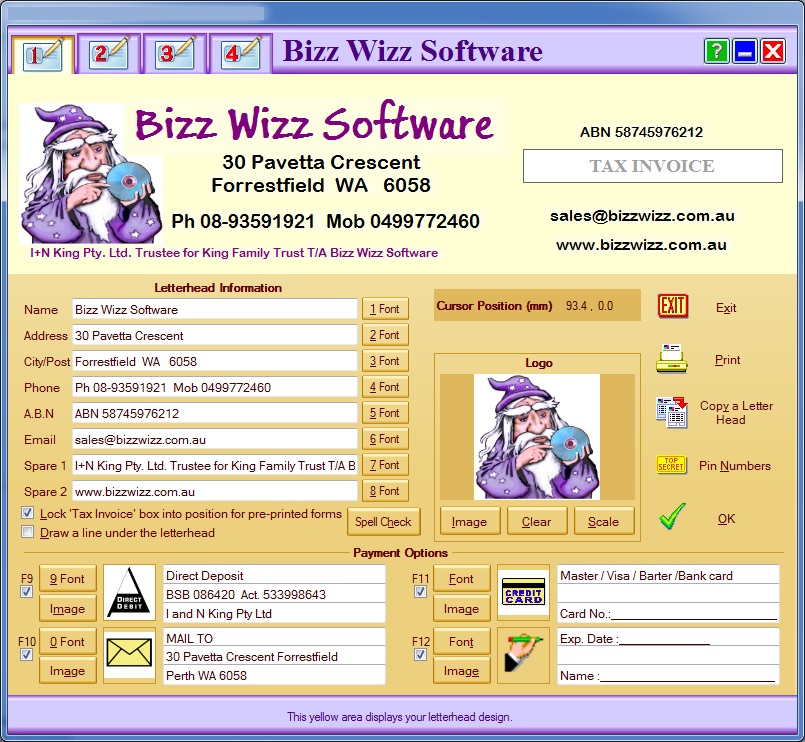 The Tabs at the top of the of the window are for four Letter heads, each computer can be set to one of the four letter heads and you can swap to another header at will.
See Swap Header in Main Menu help file

The letter head designer is used to setup your business name details.
The light yellow box along the top of this window shows the layout and what the letter head will look like.
By clicking on the text or picture and holding down the mouse button the text or Picture can be moved in the window and placed where Required.
The Tax Invoice box can also be moved in this way, But only if the 'Lock Tax Invoice Box' is un-ticked. If ticked the box will be placed to fit on forms.
You have 8 text input boxes to enter your name address ect. Try to keep text matching the the labels as this is important.
To change the size of the text or the font and colour then you must press the font button for this text.
Changing the size of the picture can be done by Moving the mouse over the picture and in the bottom right of the picture a red arrow will show, click and hold to resize the picture.
To load a picture click on the Image button next to the Clear and Scale buttons
To remove the picture click on the Clear button
When a picture is loaded it is of a certain height and width, when you resize the picture the height and width ratio may change distorting the image. By pressing the Scale button the scale ratio will be fixed.

Along the bottom are the Pay options these can be turn on or of by the tick boxes to the right of them.
Some images are supplied with BW in black & white and some in colour.
See picture above for more detail.

Main Buttons:
The top button will Exit without saving the changes.
The Print button will print letter heads. NOTE tax invoice box will not print unless you are printing an Invoice.
The Copy a Letter Head button is used to copy a letter heads. You will be asked which letter head to copy (1 to 4) to the current letter head (tab).
The Pin Numbers button sets up pin number locking on parts of BW. see Pin Numbers
The OK button saves the changes and closes the letter head designer..


TIP: The business Name Must be entered Even if it is in the logo picture just set the font to white!