BIZZ WIZZ INVOICING
SERVICING MODULE
Bizz Wizz : Setup , Main Menu , Ledger , Phone Book , Invoice Book , Stock Book , Order Book , Creditors , Point of Sale , Business Name , Diary , Wages , Document Manager , Unlock , Backup
See Also : Invoice Main Menu , Invoice List , Customer List , Add and Edit Customers , Sales History , View / Edit Invoice , Age Statements , Job Schedule, Service Module , POS Setups , Hot Key Setups
NOTE: By moving the mouse over the buttons, the help box at the bottom of that screen will give you a brief description of the function of that button.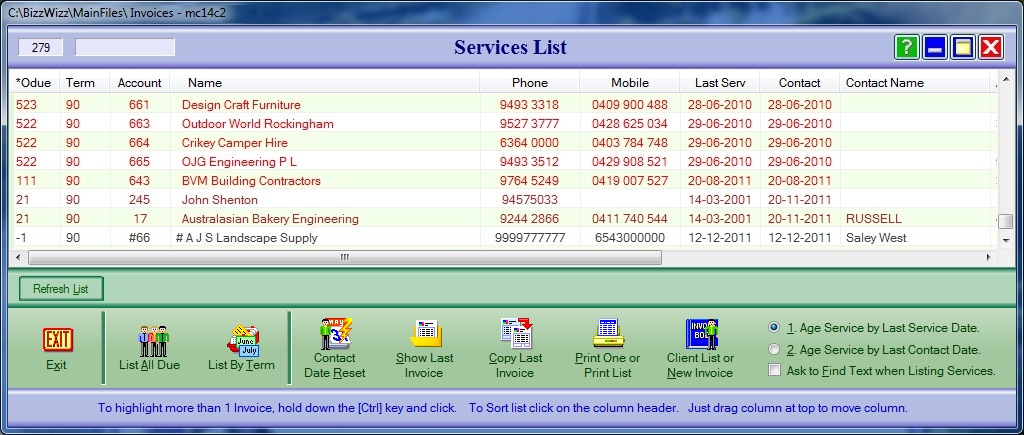 This window shows customers in the Service List.

Exit Button

List All Due button Clicking on this button will bring up a list of all due clients, as long as they have a value in their services due terms in the customer record. Services due terms are entered when you first enter your customers details.

List by Term button When this button is clicked a dialogue box will ask you to enter the service due term. Note: ( this would have been pre-set in the customer record ). Enter in the service due term and click OK. Only customers that are due will be listed up to one month prior and after.

Contact Date Reset button Click this button to reset the contact date for the customer

Show last Invoice button To bring up the last invoice created for a selected customer click on this button.

Copy Last Invoice button Click to copy the selected customers Last logged invoice to a new one.

Print One or Print List button Click to print the highlighted customer or the whole list. A print menu will show, click print and then exit.

Client List or New Invoice button Clicking on this button will take you back to the main menu of Invoicing. You can then either edit the highlighted cutomer, List their Invoices or make a new Invoice.

Age Service by Last Service date Select this option to age list by Last Service Date.
Age Service by Last Contact Date Select this option to age list by Last Contact Date.
Ask to Find Text when Listing Services Select this option to find only Services with the text entered.


See Also : Invoice Main Menu , Invoice List , Customer List , Add and Edit Customers , Sales History , View / Edit Invoice , Age Statements , Job Schedule, Service Module , POS Setups , Hot Key Setups