BIZZ WIZZ MEMO MAIL
Mail List Window
Bizz Wizz : Setup , Main Menu , Ledger , Phone Book , Invoice Book , Stock Book , Order Book , Creditors , Point of Sale , Business Name , Diary , Wages , Document Manager , Unlock , Backup
See Also : New Memo Mail
NOTE: By moving the mouse over the buttons, the help box at the bottom of that screen will give you a brief description of the function of that button.
MEMO MAIL is used to send a memo in an office environment from one desk/office to another. Memos are to let others know they have missed phone call , ring some one back or some other type of information.
Memos can be seen on screen as a flashing Envelop which means they will be dealt with quickly, because they can not be missed.
For Users to receive a memo the Bizz Wizz main menu or tool bar must be running on screen as it is this program that does the checking for new memo mail.
At the top of the screen is your user name if you name is not there, please select it or add it to the list.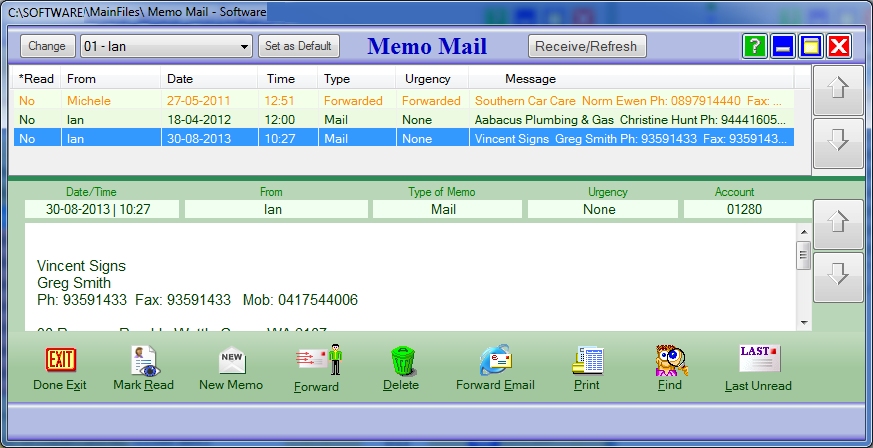 If you are not in the list of users, select a blank user and click the [Change] button, this will ask for your name and email address and it will be stored.
If the computer is for your use then click the [Set as Default] button.
Memo Mail works like an email program with the memo item at the top and the text for the highlighted memo below.

The Buttons along the bottom of the screen are:

Mark as Read : Will turn the memo text grey and Read to Yes. Note you can also right click on the list to mark as read.

New Memo : Will start a new memo to send to a user.

Forward : Will start a new memo with the highlighted memo details in that memo to send to a user.

Delete : Will Delete the memo message highlighted.

Forward Email : Will start a new Email with the highlighted memo details in that message to send to a user.

Print : Will Print the highlighted memo details.

Find : Finds text in memos Listed. NOTE: The memo list can also be sorted by clicking on the 'column top' of the column in the list.
See Also : New Memo Mail