BIZZ WIZZ DIARY
TO-DO LIST
Bizz Wizz : Setup , Main Menu , Ledger , Phone Book , Invoice Book , Stock Book , Order Book , Creditors , Point of Sale , Business Name , Diary , Wages , Document Manager , Unlock , Backup
See Also : Diary , Add or Edit Appointment , Add Contacts , Contacts List
NOTE: By moving the mouse over the buttons, the help box at the bottom of that screen will give you a brief description of the function of that button.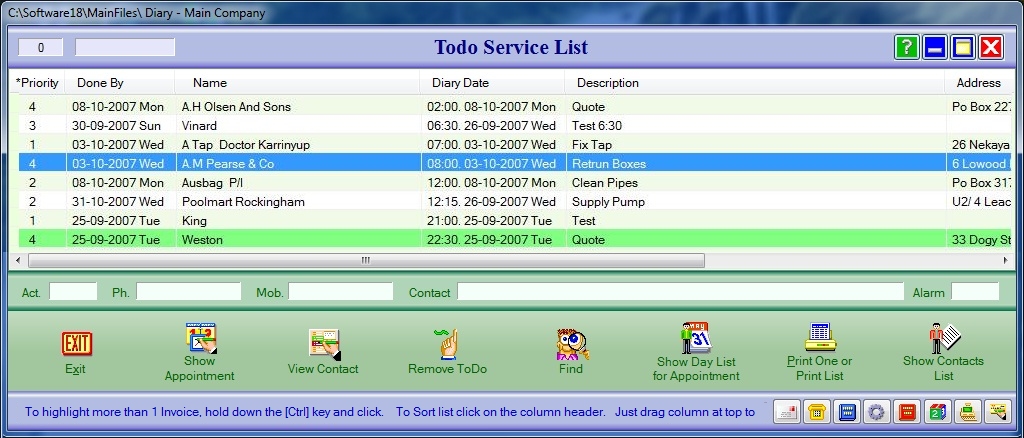 The ToDo list holds Appointments/jobs that need some attention.

Click the top of the column to sort by that column. Columns can also be moved left or right by dragging the top of the column.

Exit button - closes the ToDo list and returns to the main screen.

Show Appointment button - will bring up the Appointment edit form.

View Contact button - will bring up a contact's detail for the Appointment that is highlighted.

Remove ToDo button - will remove this Appointment from the ToDo list but will not delete it.

Find button - will ask you to enter some of the text you wish to find. Found Appointment will show in red.

Show Day List for Appointment button - This will load the main screen and set it to the day on the highlighted Appointment showing all Appointments for that Day.

Show Contacts List - button displays the contacts list.

See Also : Diary , Add or Edit Appointment , Add Contacts , Contacts List