BIZZ WIZZ PHONE BOOK
STICKERS
Bizz Wizz : Setup , Main Menu , Ledger , Phone Book , Invoice Book , Stock Book , Order Book , Creditors , Point of Sale , Business Name , Diary , Wages , Document Manager , Unlock , Backup
See Also : Phone Book , Add Contacts , Print Stickers , Import Contacts
NOTE: By moving the mouse over the buttons, the help box at the bottom of that screen will give you a brief description of the function of that button.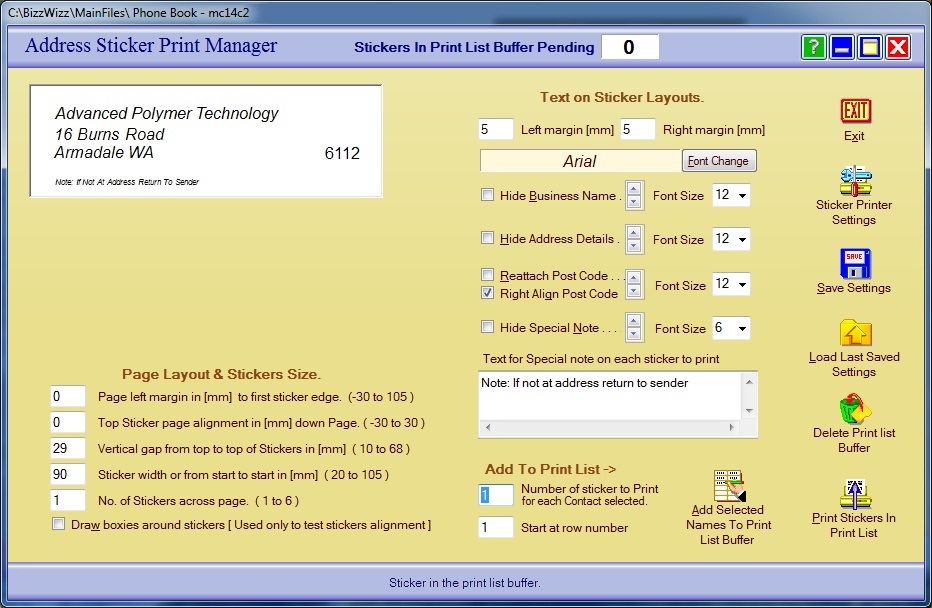 The white box at the top left is a mock up of the sticker

Below this is the Page Layout & Sticker size Options

The first 2 boxes are Left and Top alignments on the page of the first sticker.

Next is the Vertical gap which is the Gap from the top of one sticker to the top of the next.

Next is the Sticker width, if there are more then 1 sticker across the page then its from start to start of the next sticker.
Note: if there is a gap between the stickers use the Left and Right margin setting to allow for this. Found top Right on screen.

Sticker Across Page is the number of stickers across the page to print.

Text on Stickers layout:

Left and Right margin are used to stop text from printing to close to the edge of the sticker

Font size and type - Just click Font Change button to change.

The next Four options are for setting up the text on the sticker
The tick box hides the text when ticked. The scroll buttons set the up down position on the sticker for that text. The font size box is for the font size.

The odd option out is the post code which can right aligned or put on the end of the address.

The large input box is for a Special note on the sticker. you can have more than one line if it fits.

Number of Stickers to Print for each Contact selected is the next option and is only used if you need more than 1 sticker for a contact.

Start at row number is normally preset as you add stickers to the buffer.

Buttons:
Save Settings will save your setups.

Load last saved Settings this is a quick way to return old settings if you have not Save the new ones.

Delete Print List Buffer if you decide not to print and you have already names in the buffer this will cancel them

Add Selected Names to print List Buffer - This button sends the names to the Print List Buffer ready to print

Print Stickers in print list buffer will do just that.


See Also : Phone Book , Add Contacts , Print Stickers , Import Contacts