BIZZ WIZZ PHONE BOOK
IMPORT CONTACTS
Bizz Wizz : Setup , Main Menu , Ledger , Phone Book , Invoice Book , Stock Book , Order Book , Creditors , Point of Sale , Business Name , Diary , Wages , Document Manager , Unlock , Backup
See Also : Phone Book , Add Contacts , Print Stickers , Import Contacts
NOTE: By moving the mouse over the buttons, the help box at the bottom of that screen will give you a brief description of the function of that button.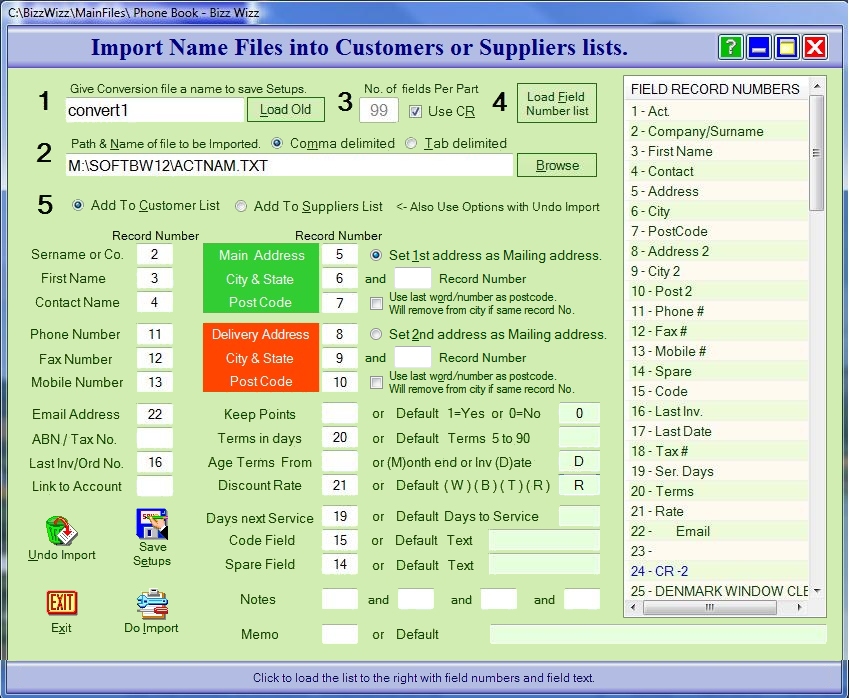 DO A BACKUP FIRST !!!!!!!
This section is for importing your suppliers or Customers files. These files normally have a " .CSV " or a ".TXT " file name extension. Follow the numbered steps to setup your import.

1. Enter the Setup File Name if its a new file or click on Load Old if you are importing into an existing setup file. This name is for the screen setups will be saved as this name.

2. Type in the Path and Name of the file to be imported. The file name will be a " CSV" or a "TXT" file which you may have to browse for if not already saved.

3. Enter in the number of fields per part. If the fields in the record end with a carriage return then just tick the CR box. This will set up each field depending on whether the fields are tab or comma delimited automatically when number 4 is pressed. You must select the correct delimiter for the file to be imported.
If you do not have a carriage return in the import file then you will need to specify the number of fields per record for one Contacts details.

4. When you click on number 4 you should see a list of all fields within the record. If you get a carriage return in blue and you have not used CR as above then use CR ( if it works ok ).

5. Select the type of contact Customers or suppliers

6. Enter the the field record numbers into the record number boxes in the list at number 5 as per picture example above.

Once you have entered everything click on the [SAVE SETUPS] button. Then click on the [DO IMPORT] button. Then click on the [EXIT] button which wil take you back to the main menu of Stock.

Note the Undo Import button will not work if you close the program.

See Also : Phone Book , Add Contacts , Print Stickers , Import Contacts