BIZZ WIZZ MEMO MAIL
New Mail Window
Bizz Wizz : Setup , Main Menu , Ledger , Phone Book , Invoice Book , Stock Book , Order Book , Creditors , Point of Sale , Business Name , Diary , Wages , Document Manager , Unlock , Backup , Memo
See Also : Memo Main List
NOTE: By moving the mouse over the buttons, the help box at the bottom of that screen will give you a brief description of the function of that button.
The Memo Mail Send window is used to write the memo to the recipient of the memo.
The memo can also be classed by Type and Urgency by the drop down lists on the right of the window.
The Account No. box is used only to let the recipient know if the message is about a account holder with you company so they can look up there details.
A memo can also be sent from the account change window, putting the details in automatically.

Note: To receive the memo the User must be selected on the (company tab) of the Bizz Wizz main menu on each computer.

The (Memo To) must be set to the recipient user name and when [ Send ] is clicked, the memo will be sent to the computer of that User.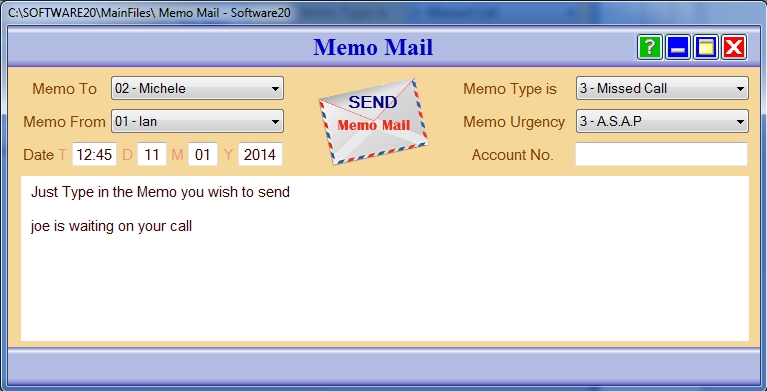 See Also : Memo Main List