BIZZ WIZZ DESIGNER
PIN NUMBERS
Bizz Wizz : Setup , Main Menu , Ledger , Phone Book , Invoice Book , Stock Book , Order Book , Creditors , Point of Sale , Business Name , Diary , Document Manager , Unlock , Backup
See Also : Designer , Pin Numbers
NOTE: By moving the mouse over the buttons, the help box at the bottom of that screen will give you a brief description of the function of that button.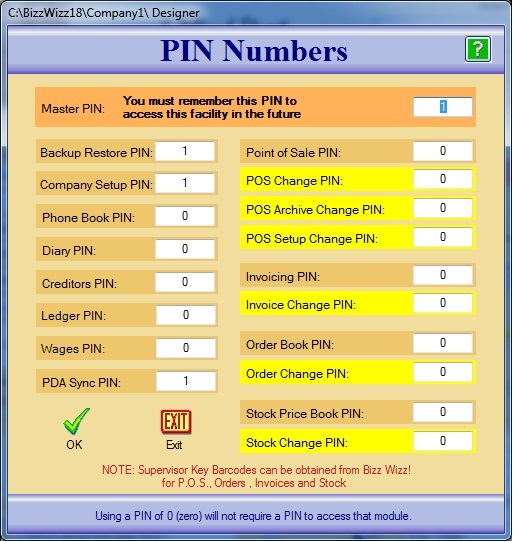 Pin Numbers are used to lock up parts of the BW Software

The master pin will stop you from seeing this form so make this number so you can remember it.
BW has a Back door if you forget.

A pin can be from 1 to 4 numbers
Setting the pin to 0 will turn off the lock.
Some pins like ' Backup-Restore and the Master Pin, should always have a Pin Number set.
The User Change Pins are Staff security pins that stops Stock changes, Invoice changes to help agents theft.


See Setup in POS for more options in locking the POS program.